NYANKUNDE-BUNIA (DRC)

HISTORY - OUR GOALS AND VALUES - STRATEGIES - ACHIEVEMENTS - FUTURE PROSPECTS

Love of God and the Neighbour, Nonviolence, Tolerance.

HISTORY, VISION AND MISSION of the CRC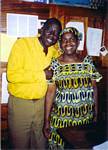 Picture: Kongosi & Ben Mussanzi

The CRC was created in 1993, under the initiative of Mr. Ben Mussanzi wa Mussangu, who at the time was a radiologist at the Centre Médical Evangélique in Nyankunde-Bunia.
The Great Lakes region of central Africa was suffering fom all kinds of local, national and regional conflict.
On August 1st 1997, the CRC Nyankunde became an organisation with a national et international presence.
At CRC we have a vision of a world of love (for God and the Neighbour), of tolerance, mutual respect, and of a culture of peace and non-violence. A world where prejudices are reduced in neighbouring communities, united by a common fate, and who learn to live together despite differing points of view.
In this world, where by nature man is a wolf for his neighbour, our "suicide mission" consists in advancing step by step in this hostile region (the Great Lakes and elsewhwere in French-speaking Africa), to teach nations, tribal groups and ethnic groups (who have a tendency to kill each other for no reason and because of ignorance) that conflict is a part of community life, however trying to resolve them through violence is pointless (because violence always breeds violence).

HISTORY - OUR GOALS AND VALUES - STRATEGIES - ACHIEVEMENTS - FUTURE PROSPECTS

© 2002 CRC Bunia-Nyankunde